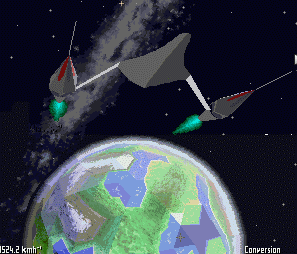 THE spirit of adventure. This is what undoubtedly has made mankind spread througout the Galaxy, searching out new frontiers and new adventure. As the human population spread, the potential for exploration increased. Many commanders have at least kept a log of their travels through space, and some have compiled them into their life story for others to read.

But with mankind's expansion through the galaxy has come more... human dramas, intrigue, assasins and thieves. Secret services of all three powers thrive. Piracy is rife, giving rise to the bounty hunter. With the ever increasing pool of human knowledge, the manipulation of the very fabric of space/time causes yet more adventures our ancestors could not have dreamed to be possible. So read the accounts of the men and women who live on the Frontier, making a living from the very adventure they crave...

New! Walking Shadow, by Ben Peake. A fantastic read!




Many Commanders have kindly written about their experiences in space so others may learn from them, and allowed the Alliance to publish them on our information site. The intent is to give the reader a better feeling for what it's really like living on the Frontier. If you've got an experience you think we should publish, please give us a call and let us know - we can publish it right here, or if you like, put a link to your site. Mail us on webmaster@alioth.net and we'll endevour to publish your story.
| | |
| --- | --- |
| Heaven's Reach | By Brad Chacos. A story of slavery and cruelty at the hands of the Empire. Stephen Keyes has escaped, to become a trader. But will it be the nightmares or the slavers who eventually finish off the elderly ex-slave? |
| Swallowing Pride | By Dalibor Perkovic. So how much mischief can a commander get himself into when he picks up a rich and famous movie star? And how will the said movie star react when she sees the 'fertilizer' drift past after a little bit of trouble with the trip to Arexack... |
| Nothing Like the Prodigal | By Ben Peake. Even if you're a bounty hunter, you've gotta go home some time. But beware, surprises may be lurking which you've not quite anticipated (PDF). |
| Walking Shadow | By Ben Peake. Ethics. Entertainment. Choose one, and beware of Vega Corp. (PDF). |
| The Lion Incident | In April 3276, the science vessel, the AJN Lion, disappeared under very unusual circumstances. It has never been seen since. Zack Wilson gives his account of the events. |
| Space psychosis | Josh Smith was a young Frontier tradesman when he witnessed one of the most frightening psychological conditions of our time...space psychosis. |